I have a Mustang GT that can be used in numerous classes. X275, Ultra Street, and 8.5". Car has stock suspension. Motor is fresh (15 passes on fresh motor) and tranny has about 30 passes. Car is Dark Shadow Grey (Ford paint code CX). Paint is barely two years old and easily a 9/10. Interior is clean and not cluttered and not gutted either. Tasteful.
The car has been 5.38 @ 130 on 1 kit weighing 3175 lbs. Best 60' is 1.250 with a 275 radial. I know it is commonly said that when a car is for sale that it has a lot more left in it but I can confidently say there is A LOT left in this set up. There is one more fogger that really hasn't been used a lot and not even close to maximized. I just bought a Wilson Nitrous Pro-Flow crossbar plate to run local 8.5" class or Ultra street and it has been flowed and tuned by Kevin Neal and never has been used on the car. Car now weighs 2970 lbs with a 230 lbs driver.
I have attached a list of what is on the car. I would like to sell the car and all my spare parts including my nitrous bottles, which I have 11 and they are all full ready to go. The price is $35000.00. Call for any questions. 573-225-4938 and ask for Blake. I hate to sell it but I just can't afford to do it any longer and thought I would sell it while it is fresh and ready to go. This car is race ready. Unload it and go
Chassis:
25.5 certification which is still current
Complete rear suspension installed by Dave Zimmerman of Team Z. He installed mini-tubs, upper and lower control arms, 8.8" rear end with 9" ends, 4:10 gears, Strange 33 spline axles and full spool.
Dual caliper rear Strange brakes and spindle mounted front brakes
Santhuff Double Adjustable front struts (NEW) and rear shocks
PA Racing light weight control arms, spindles, and K-member.
Single Simpson parachute
Current cert on Simpson seat belts....camlock style
Carbon Fiber front bumper outlaw style. (Motor City Solutions made) bought through Team Z Motorsports
Carbon Fiber lift off cowl hood (Motor City Solutions) bought through Team Z Motorsports
Weld V-Series spindle mount wheels (black spoked)
Weld Aluma star 2.0 15x10 MAC FAB double beadlocked fast eddie style rings
Carbon Fiber inner door trim panels
Engine:
430" small block Ford
SVO Siamese wet sump 9.500" deck block
Callies Magnum 4.000" stroke and 2.100" rod journal (NEW)
GRP Aluminum rods 6.340" (NEW)
Diamond Pistons
Cometic Head gaskets and intake gaskets
Prosystems dominator carb
Blue Thunder Intake ported and matched to cylinder heads by Wilson Manifolds. Blue Thunder valley cover.
Total Engine Airflow (TEA) prepped C3H Yates cylinder heads. Fresh valve job. New valve springs. Have Flow sheet.
Meziere Starter
Jeff Johnston Aluminum oil pan
Engine diaper
C&R radiator with push fan
Carbon Fiber Valve covers with billet rails and oilers. (Hold vacuum fine)
Bullet Racing camshaft spec'd for this combo
Danny Bee Belt drive
Moroso vacuum pump (NEW)
Peterson oil primer/remote oil filter base. Oversized System 1 Oil filter. (NEW)
CSI electric water pump
Jesel Shaft mounted rocker arms
Manton Pushrods
Crower Severe Duty solid roller lifters. .874" body.
Titan oil pump
Power Adders:
Two Steve Johnson Induction Solutions Foggers
Wilson Nitrous Pro FLow crossbar plate flowed and tuned by Kevin Neal.
Transmission & Converter
TCI PRO-X powerglide with transbrake
PTC Nitrous converter
PST Carbon Fiber drive shaft (NEW)
Electrical:
7531 MSD Digital Ignition
8261 MSD HVC coil
Racepak Sportsman w/UDX dash
Wheelie meter
16V XS blue battery
XS battery Charger 12v & 16V capabilities
Firecore plug wires
MSD 7555 Individual cylinder timing pick up
MSD crank trigger
Edelbrock Nitrous progressive controller
Jones racing mini alternator
Fuel:
Magna Fuel Prostar 500 fuel pump w/filter for engine
BG fuel pump for nitrous only.
Magna fuel log with two Holley regulators
Magna Fuel pressure regulator for carb
Black light weight braided line and fittings
[url][URL=http://s240.photobucket.com/user/blake_yount/media/Mustang/DSC09551.jpg.html]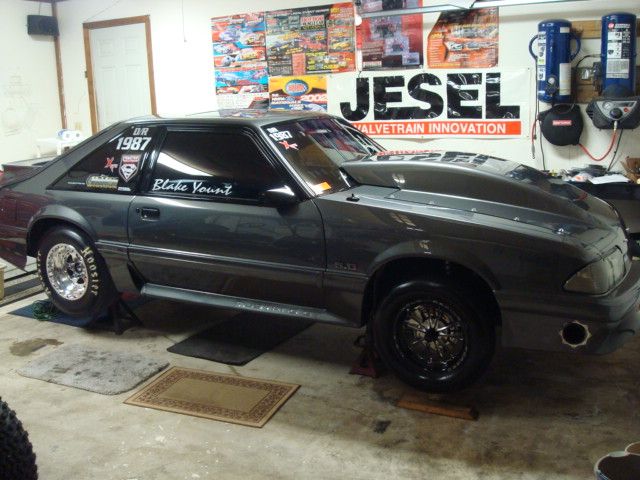 [/url][/url]
[url][URL=http://s240.photobucket.com/user/blake_yount/media/Mustang/enginephotofrt.jpg.html]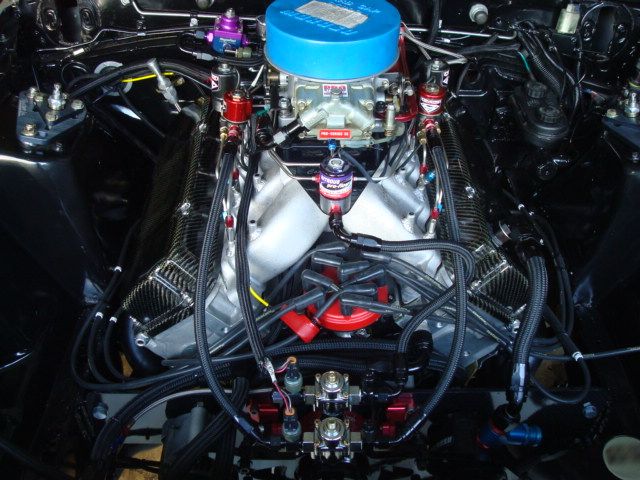 [/url][/url]
[url][URL=http://s240.photobucket.com/user/blake_yount/media/Mustang/Interior.jpg.html]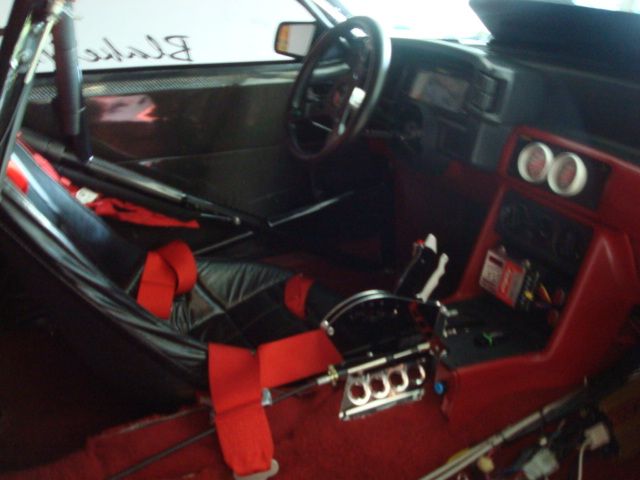 [/url][/url]